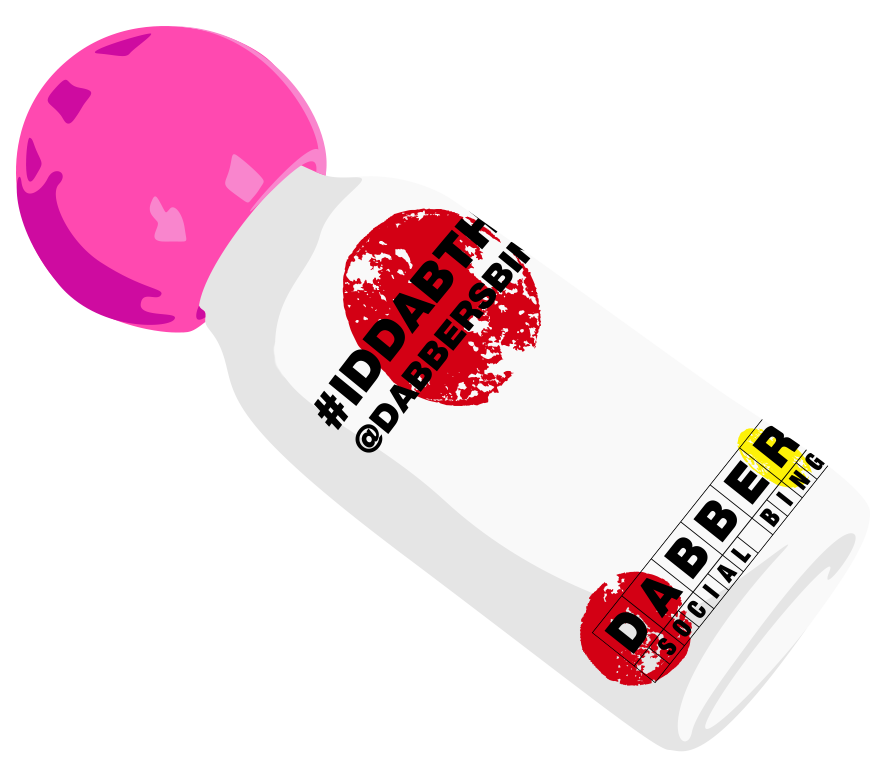 These Terms and Conditions / Terms of Use will apply to your access and use of our Website(s).
By using the Website(s), you accept that you will be bound to the terms and conditions of use in full. If you do not agree to any of these terms and conditions, you must not access, use and/or contribute to the Website(s). If you have any questions about these terms and conditions, you can contact us.
Each ticket for Dabbers Social Bingo is valid for one person's entry on the day and time which it is booked for. These tickets are not transferable to another event.

For any cancellations, refunds can be given up to 3 days in advance of the start of the event. We reserve the right to keep the full ticket price for any cancellations made within 3 days of the start of the event.

We reserve the right to alter any tickets that are purchased through our website due to events or circumstances beyond our control without being obliged to refund monies or exchange tickets

Any pre-ordered food and drink will be paid for on the night and you are liable to pay for it along with the rest of your food and drink tab.

The ticket holder assumes all danger and risks incidental to the event for which the ticket is issued, whether occurring prior, during or after the event. The ticket holder agrees that the management, event participants and all of the respective officers, directors, owners and employers are expressly released by the ticket holder from any claims arising from such causes.

Please check tickets, as mistakes can't always be altered or refunded.

From time to time, events may be cancelled or postponed by the performer or venue for a variety of circumstances. If the event is cancelled, please contact dab@dabbers.bingo for information on receiving a refund from the responsible party. If the event was moved or rescheduled, Dabbers may set refund limitations. It is your responsibility to ascertain the date and time of any rearranged event.

The venue reserves the right to refuse admission and may on occasion have to conduct security searches to ensure the safety of the patrons. This can be due to drunkenness of patrons, aggression or any number of reasons.

Latecomers will be admitted, but they may not be able to play all games of bingo for the event if they arrive after one of the games has started.

Tickets are sold subject to Dabbers' right to alter or vary the programme due to events or circumstances beyond its control without being obliged to refund monies or exchange tickets.

Dabbers Social Bingo operates a No Smoking Policy within venue.

Dabbers Social Bingo accepts no responsibility for any loss or damage to personal property.

The event listed on the purchased ticket is strictly for ticket holders who are over 18 years of age unless absolutely stated otherwise. Identification may be required.

You have the right only to a seat of a value corresponding to that stated on your ticket. We reserve the right to find you provide alternative seats to those originally allocated to you. You may not sit in a seat or section that has not been allocated to you by us
Parties of 6 or more people may be required to start a tab at the beginning of the night and pay at the end.
Double Bubble Bingo Vouchers
How to redeem 
Redeemable within the Dabbers Social Bingo Houndsditch venue. Please present at the time of ordering in order for this value to be credited to your order or tab.
Valid for double its face value. Terms and conditions apply.
This voucher can be redeemed once only.
Original Terms and Conditions
Vouchers are non-refundable. Valid for double voucher face value. Credit can be used towards food, drink and merchandise within the venue. Excludes pre-orders. Cannot be used to purchase memberships. Not valid for purchases where a discount is offered above 10%. Cannot be used towards the cost of Private Venue Hire or associated minimum spend. Cannot be exchanged for cash and must be used in total in one transaction. No change or vouchers will be given if total voucher value is not used. Subject to availability. The voucher can be redeemed once and is not valid for use after the expiry date.
Amendments to Terms and Conditions
Expiry date has been extended to 31st December 2021
Voucher code has been sent to the email used to book the voucher. Valid only when ordering food, drink and merchandise through our online ordering system. This code is unique to you and while this may be forwarded on to be used by another person, we cannot reimburse any voucher value once used regardless of the circumstance.
Doggie Bingo Policy
This policy concerns pet dogs; it does not apply to assistance dogs.
At selected show, which will be clearly advertised as such, Dabbers Social Bingo permits dog owners to bring their dogs with them into the venue (one dog per adult).
It is essential that this policy does not affect the enjoyment of other customers or create hazards for them, our staff or our premises.
Should a dog become unruly or adversely affect the enjoyment of others, the Manager needs to intervene and, if necessary, request that the owner and the dog leave the premises. No refund will be offered.
Dog owners are expected to adhere to the venue rules, and these should be brought to their attention.
If there are persistent and unresolved problems, Dog-friendly Bingo will be suspended at the Manager's discretion.
To ensure that customers who may not wish to play bingo when dogs are present are fully aware of which show they are booking, all Dog-friendly Bingo must be clearly advertised as such, both in advance and again when customers are purchasing tickets at the box office.
To protect the furniture, all owners are to be issued with a fleece blanket to cover the seat used by the dog or to use as a rug if the dog sits on the floor. When these are returned after the show, they must be laundered separately from any other washing (e.g. tea towels used in the cafe). The venue must be fully cleaned after a dog-show to remove dog hairs etc. which may affect subsequent customers.
During the shows, the venue will provide bowls of water around the premises. Dogs should not be fed in the venue, though owners may provide small treats. Owners are encouraged to take their dogs outside during the show intervals and are responsible for any waste outside of the venue. If a dog fouls inside the premises, the procedure for 'cleaning up bodily fluids' is to be implemented; the owner can be encouraged to assist.
The control measures as detailed in the Dog-Friendly Bingo risk assessment must be in place. If any of the controls are not in place, the shows cannot be offered until such time as they are.
While dogs are welcomed into the venue, they are not allowed designated areas around the bar or kitchen areas or any back-of-house areas.
To assist the venue in the smooth running of the show, owners must keep dogs on a lead when in the venue, not leave dogs unattended and must not tether dogs to any Dabbers Social Bingo furniture or property.
Standard Competition Terms and Conditions
This competition excludes employees of Dabbers Social Bingo, their families, agents or anyone else connected with this promotion. No third party entries, bulk entries or entries submitted by agents will be accepted. Dabbers Social Bingo reserves the right to verify the eligibility of entrants. Dabbers Social Bingo may require such information as it considers reasonably necessary for the purpose of verifying the eligibility of an entry and the prize may be withheld until and unless Dabbers Social Bingo is satisfied with the verification.
Dabbers Social Bingo will only accept one entry per person per competition in the course of one calendar year.
Entrants must be over 18 and warrant such by entering this competition/prize draw.
Entries not complying with these terms and conditions will be invalid.
Winner(s) will be notified of the expiry date specific to the competition/prize draw via email. The announced winner(s) is/are responsible for contacting Dabbers Social Bingo within a week of such notification.
Entries received after the expiry date are invalid.
The instructions provided at the point of entry form part of the terms and conditions of this competition/prize draw, and in the event of a conflict, these terms and conditions take precedence.
The announcement of the winner(s) will include contact details for the winner(s) to use in order to claim their prize.
In the event the announced winner(s) does not contact Dabbers Social Bingo within the deadline outlined above the company reserves the right to issue the prize to another entrant(s) and the original announced winner(s) will have no claim to any prize issued.
Dabbers Social Bingo will not be responsible for any inability of a prize winner to take up the specified prize.
Dabbers Social Bingo reserves the right to provide substitute prize(s) of similar value should the specified prize(s) become unavailable for reasons beyond its control. Cash or credit alternatives will not be offered. None of the prizes are transferable.
Dabbers Social Bingo accepts no responsibility for incorrectly completed, lost or delayed entries, notices, acceptances, tickets or other documents related to the prize(s). Incomplete, inaudible or illegible entries will be disqualified. Dabbers Social Bingo shall not be responsible for technical errors in telecommunications networks, internet access or anything else preventing entry to any competition.
In the event of fraud, abuse, and/or an error affecting the proper operation of this competition/prize draw, including the allocation of more prizes than are available, Dabbers Social Bingo reserves the right to end or suspend the competition/prize draw; amend these terms and conditions; declare void the notification of winner(s); and/or to allocate available prizes by conducting a simple draw from all wrongly allocated winners.
If any provision of these terms and conditions is held invalid by any law, rule, order or regulation of any government, or by the final determination of any court of a competent jurisdiction, such invalidity shall not affect the enforceability of any other provisions not held to be invalid.
The winner(s) may be required to participate in publicity connected with this competition/prize draw. It is a condition of entry that the winner(s) agree to their name and city of residence being made publicly available if they win.
Entrants' data will be collected, stored and processed for the purposes of administering and assessing this competition/prize draw.
Dabbers Social Bingo reserves the right to suspend, cancel or amend the competition/prize draw and/or review and revise these terms and conditions at any time without giving prior notice and by continuing to take part in the promotion subsequent to any revision of these terms and conditions, entrants shall be deemed to have agreed to any such new or amended terms.
This competition/prize draw is governed by English Law and is subject to the exclusive jurisdiction of the English courts.
Hours

| | |
| --- | --- |
| Monday | CLOSED |
| Tuesday | 6:30PM - 11:00PM |
| Wednesday | 6:30PM - 11:00PM |
| Thursday | 6:30PM - 11:00PM |
| Friday | 6:30PM - 11:00PM |
| Saturday | 11:30AM-11:00pm |
| Sunday | 12:00PM-5:00PM |