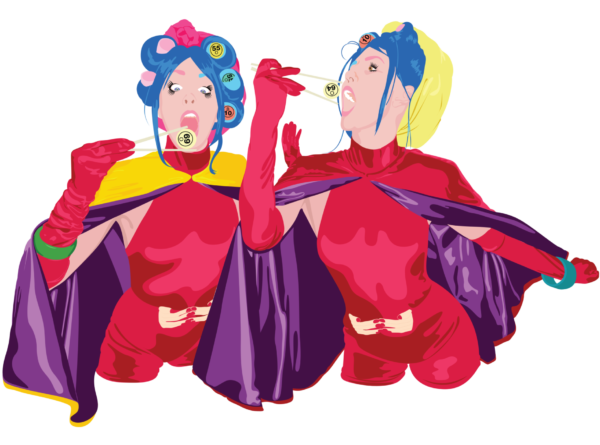 We're not just masters of the bingo hall, we boss it in the kitchen too. Delivering food and drink to your table that you can't help but dip, dunk and dab. We're on hand to look after your dietary requirements and condiment needs. Think yummy comfort food with inspired extra special touches.
We use an online ordering system to deliver food directly to your table. Take a look at our menu below and even pre-order for your visit to Dabbers. If you have any questions regarding food and drink, please email dab@dabbers.co.uk.
We are currently running a reduced menu. For more info or to discuss dietary requirements please email dab@dabbers.bingo
Are you a nifty thrifter? Well, we've got deals to help make a night at Dabbers even more satisfying. All these are available to add to your night during the ticket booking process.
Includes
A breakfast dish
Prosecco top-ups for 2 hours
£27.00
Only available for Dabbers Brunch Club
Includes
A burger
1 drinks voucher
£21.50
Includes
A burger
3 drinks vouchers
£31.50
Includes 5 bottles of Vitelli Prosecco.
£140.00
Includes 5 bottles of wine.
£120.00
Includes 10 cans of beer.
£40.00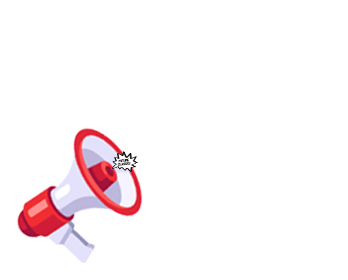 We bring theatre to the plate with some playful new additions to our menu. These future classics promise to be visually sensational and full of flavour and all are utterly Instagrammable.
The ultimate sharing showpiece. Baked camembert sits inside a pineapple sporting a selection of skewered appetisers. These are griddled pineapple, chorizo, figs, grapes, olives, sun-dried tomato, cured ham and crusty bread. Expect fireworks… no really. 
Inspired by the iconic cheese and pineapple hedgehog of the 70s and 80s. With the addition of indulgent gooey camembert and an upgrade on the constituents, we take the hog out of retirement and give it a new lease of life.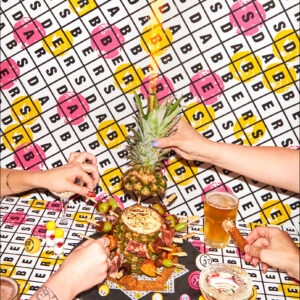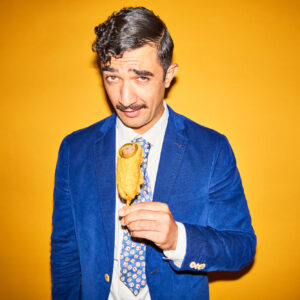 It's a frankfurter inside a pickle inside a layer of crispy cornmeal… oh, and there's cheese and jalapeños inside that frank. If your mind isn't blown your taste buds will be. Add an extra kick with a Pickle-back Bourbon shot with cornichon garnish.
This bright and boozy selection of fruits is a playful dessert that's perfect for sharing. Includes four different alcoholic fruit jellies.
A long way from the sloppy fruit salad of family buffets. We put a sophisticated yet playful twist on bringing fruit to a party. This selection makes a fun sharer for those wanting an after-dinner aperitif or a boozy dessert for one. Del Monte eat your heart out…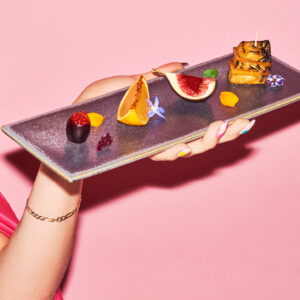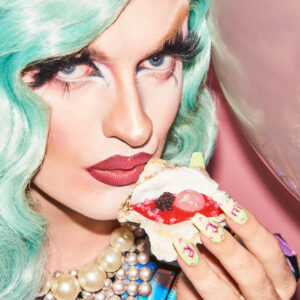 Passionfruit gel and citrus caviar are topped with a Vodka pearl served in an oyster shell accompanied by a shot of Prosecco.
East London has long been connected to the seas and its spoils, those Pearly Kings and Queens loved a winkle or two. But in modern times you're more likely to find passionfruit cocktails and spicy margaritas being enjoyed en masse. We take iconic party drinks and give them a new look with a nod to the past by placing it inside the pearled shell of the sea's most notable aphrodisiac.
Hours

| | |
| --- | --- |
| Monday | 6.30PM-11PM |
| Tuesday | OPEN FROM 19th OCTOBER |
| Wednesday | OPEN FROM 13th OCTOBER |
| Thursday | 6.30PM-11PM |
| Friday | 6.30PM-MIDNIGHT |
| Saturday | 11.30AM-MIDNIGHT |
| Sunday | 12PM-6PM (SHOW DEPENDANT) |