Quarantine Q&A with Kirsty
We catch up with the Dabbers team to see what they're up to during lockdown…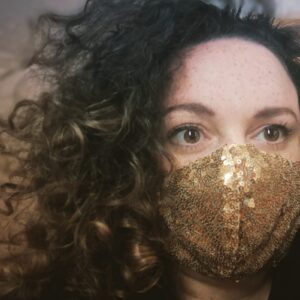 Introduce yourself! What is your role at Dabbers?
I'm Kirsty, I'm Dabbers' Marketing Manager.
What are you watching right now?
I'm staying with my sister and her partner, we're collectively watching Ozark on Netflix. Jason Bateman stars, directs and produces (I guess he really wanted the show to happen!) in a drug cartel thriller. Other than that, I'll pretty much absorb anything on BBC Four, I'm a sucker for an arts and lit documentary!
Any book recommendations?
Loads, I'm reading Hilary Mantel's Booker Prize winning Wolf Hall – the TV series is currently available on iPlayer as well as a documentary on Hilary herself; I plan to enjoy both when I've finished reading. Now is also a great time to delve into classic authors, Kafka is one of my faves and he has loads of short stories for anyone with a short attention span.
What are you listening to?
Mainly the Talking Heads radio on Spotify, it throws up a great selection of 80s tunes. I'm also a prolific true crime podcastee and love listening to the likes of My Favourite Murder, Last Podcast on the Left and Jenson and Holes – The Murder Squad.
What food can you not live without right now?
Wine. That's a food right?
Emoji is my native language, so giving you one is tough… My top five are 👍 😘 🙈 😂 🍷
Most-used app on your phone?
Spotify, with ASOS being a close second – thankfully window shopping doesn't have to stop because of corona!!
What are you most excited to do when this is over? 
Hug all of my friends – with as much body contact and as publicly as possible.


Hours

| | |
| --- | --- |
| Monday | CLOSED |
| Tuesday | CLOSED |
| Wednesday | CLOSED |
| Thursday | CLOSED |
| Friday | 6.30PM-MIDNIGHT |
| Saturday | 11.30AM-MIDNIGHT |
| Sunday | OPEN FROM 25th JULY |